Tag: Boot.wim
by Andrius on Feb.08, 2009, under Other, SCCM/SMS2003
So lets say you've accidentally delete one or both Boot images from OSD in Configuration manager console and want to add them back.
When you delete the image in the console the default image file is still located on the SCCM server.
So here are the steps to add Boot image back:
1. Open Configuration manager console. Navigate to Site Database>Computer Management>Operating System Deployment>Boot images. Click on Add Boot Image
Add Boot Image Package Wizard will start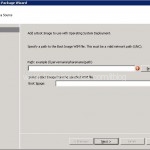 (continue reading…)
Leave a Comment
:Adding deleted Boot image, Boot.wim, SCCM, winpe
more...
by Andrius on Feb.26, 2008, under Microsoft, SCCM/SMS2003
I've been testing SCCM since November and 4 times I've ran into the following problem. While trying to PXE boot the new machine I receive the following errors
PXE-T01: File not found
PXE-E3B: TFTP Error – File Not Found
I don't know what happens and how to reproduce the error but it happened to me 4 times. 2 times I've ended rebuilding the whole SCCM installation.
When it happened the third time I found a solution on MS SCCM Technet forums:
(continue reading…)
30 Comments
:Boot.wim, empty, File not found, image, OSD, PXE, PXE-T01, SCCM, SMSBoot, TFTP Error
more...