Here is one very common error that you can see in  UCS Manager. I've observed it in multiple UCS firmware versions and all times it was cosmetic and had no impact.
On the blade you'll see a major error similar to this:
Description: fc VIF 6 /R A-1095 down, reason: waiting for flogi
Cause: link-down
Code: F0283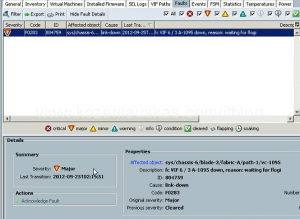 If you go to VIF paths on the blade you'll see  error 'waiting for flogi' on vHBA that has the problem.


Now as I mentioned already this is most likely cosmetic issue. So first you need to verify that this is really the case. (more…)