Tag: OSD
by Andrius on Jan.18, 2008, under Microsoft, SCCM/SMS2003
Here are the steps to create an ISO image file for capture media.
Start Configuration Manager console
Go to Site Database>Computer Management>Operating System Deployment
Right Click on Task Sequences and select Create Task Sequence Media (continue reading…)
9 Comments
:capture media, cd, create, create capture media, image, iso image, make, OSD, SCCM
more...
by Andrius on Jan.11, 2008, under Microsoft, SCCM/SMS2003
Here is an error that I've received when I was trying to capture an image of a PC for SCCM. This error appears straight away after you click on finish button in Image capture wizard. The log does not give any clues.
Here is the screenshot of an error.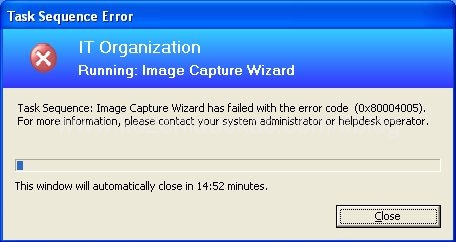 (continue reading…)
7 Comments
:0×80004005, 80004005, Image capture, OSD, SCCM
more...