I am using HP Integrated lights out(ILO) management a lot to managed Proliant servers. It always worked fine, but only with Windows OS. If I was trying to connect to servers ILO that is running Unix/Linux/VMware I was not seeing the server name. The ILO page was displaying 'host is unnamed'.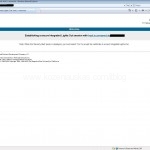 Finaly I've found what was missing.
I have no problems pinging the host by its name. But when I've tried to resolve the name from IP, I found the problem. The name was not resolved and that was pointing that there is no PTR record. After creating the PTR record the name also started appearing in ILO. The same problem also effects HP System Insight Manager(SIM).
Note: The name will not appear instantly after you create PTR record.
Tags: Host is unnamed, HP, ilo, Integrated lights out, ProLiant, SIM, System Insight Manager