Archive for February, 2009
by Andrius on Feb.27, 2009, under Windows 7
Most of you probably know that there is a new build 7022 of Windows 7 floating on the Internet.
I've been using Windwos 7 build 7000 for some time now and decided to upgrade to see what it has to offer.
The upgrade went without problems although it took long 1 hour and 10 minutes and multiple reboots. All the application that were installed previously worked fine after upgrade. After upgrade I was asked to provide a key and activate even though it was activated before.
The biggest change probably is the IE8 which is RC1, but the pages that were not working for me on the previous version of IE8 were still not working on RC1. I have not noticed any performance differences for day to day tasks. There are some UI changes but nothing major.
At the moment I don't see a reason to upgrade form build 7000 to 7022 as it is not big jump and does not provide anything significant.
Leave a Comment
:build 7022, Windows 7
more...
by Andrius on Feb.08, 2009, under Other, SCCM/SMS2003
So lets say you've accidentally delete one or both Boot images from OSD in Configuration manager console and want to add them back.
When you delete the image in the console the default image file is still located on the SCCM server.
So here are the steps to add Boot image back:
1. Open Configuration manager console. Navigate to Site Database>Computer Management>Operating System Deployment>Boot images. Click on Add Boot Image
Add Boot Image Package Wizard will start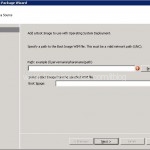 (continue reading…)
Leave a Comment
:Adding deleted Boot image, Boot.wim, SCCM, winpe
more...