Tag: decommission
by Andrius on Dec.27, 2013, under Cisco, UCS
After trying to decommission chassis the task never finishes. It gets stuck at Erasing chassis identity task: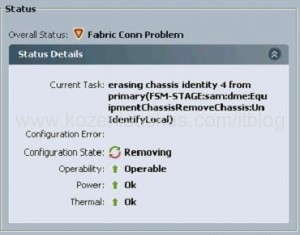 FSM is stuck at 8% with error 403, Error Leaving fabric port-channel for port 1/16 (the port can be different)


Trying to Acknowledge or Remove Chassis is not successful.


(continue reading…)
Leave a Comment
:chassis, decommission, UCS
more...