Here is what happens when you try to do things too fast.
I was imaging 4 servers at the same time, all these servers had the same name but were going to be joined to different domains. I've done that many times before but this time after joining 2 servers to the domain I could not join the other 2.
The error that I was getting was:
The following error occurred attempting to join the domain domain.local.
Logon failure: unknown user name or bad password.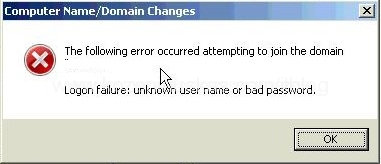 In the system event log I've found the following event: Event id 4321, Source NetBT which was saying:
The name computer_name could not be registered on the interface with IP address xxx.xxx.xxx.xxx. The computer with the IP address yyy.yyy.yyy.yyy did not allow the name to be claimed by this computer.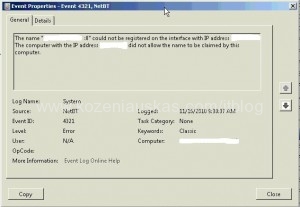 Computer with IP yyy.yyy.yyy.yyy was already joined to the domain but it was still in the same subnet as the one that I've tried to join. I know having 2 or more machines witht the same name will cause problems but the subnet used was the one that is used for imaging machines and after imaging is finished the server are moved to different subnets.
I don't understand why I was able to join 2 machines to the domain and was not allowed to do that on the other 2.
Solution to the problem is very simple move the servers that are already joined to the domains to the other subnets or switch them of temporarily. This allowed to join the other server to their domains.
Tags: Server 2008