There are times when you need to deploy new company screensaver to all PCs. You can use Group Policy for that, but the problem is that it will disable screensaver settings for users and they will not be able to change them. If you have SMS or SCCM you can use it to deploy screensaver. The whole process is very simple.
You will need 3 files:
   screensaver file (screensaver.scr)
   registry file which will configure screensaver settings (screenscr.reg)
   batch file which will copy the screensaver and apply the settings (screenscr.bat)
The basic settings for screenscr.reg should look like this:
Windows Registry Editor Version 5.00
[HKEY_CURRENT_USER\Control Panel\Desktop]
"ScreenSaverIsSecure"="1"
"ScreenSaveTimeOut"="900"
"ScreenSaveActive"="1"
"SCRNSAVE.EXE"="C:\\WINDOWS\\screensaver.scr"
Create a batch(screenscr.bat) file and put the following lines:
@echo off
regedit /s screenscr.reg
copy screensaver.scr %windir%\
It might look strange that it applies the settings before copying the file but this is the only way it worked for me.
Put all three file in one folder and create a package pointing to it. Create a program and select screenscr.bat as your program. Also I've ticked Suppress program notifications because I don't want them to be notified.
When creating advertising it is important in Advanced client tab select to Download program as shown below. If you don't do that it will fail.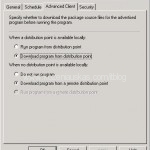 When the program runs on Client PC the user might see a command prompt popping up and disappearing. It does that very quickly so they might not even notice that.