Tag: Resource pool
by Andrius on Jun.14, 2013, under Vblock, Virtualization, VMware
OK this is a now brainer but still get asked sometimes.
In the vCenter you right click on Cluster and New Resource Pool option is grey out.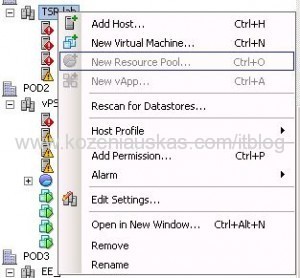 To create resource pool you need to have Distributed Resources Scheduler (DRS) enabled on the Cluster.
Right Click on the Cluster and select Edit Settings…
Now you can create Resource Pools for this Cluster

Leave a Comment
:Resource pool, VMware
more...